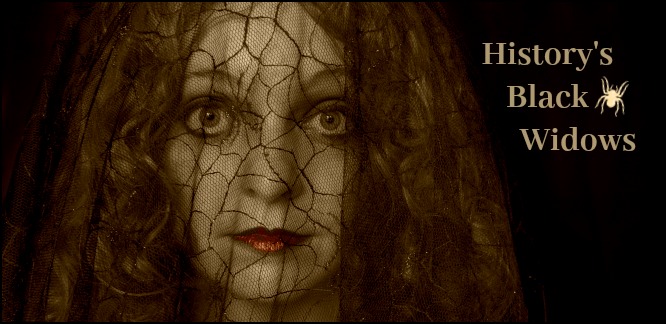 A "black widow" is a woman who kills her significant other—or, in some cases, a series of significant others—for any of several indefensible reasons: to get his life insurance, to pursue a new love, or simply for the morbid thrill of the kill. Following are three women who did away with their husbands, proving to be as lethal as the poisonous spider that gave them their name.
——————–
1. In 1908 Clara Carl began her adult life in a way most other young women would have envied: marriage to her childhood sweetheart and the anticipation of a lifetime of domestic bliss. However, in March 1920 the unthinkable happened—her husband, Robert Gibson, died in Missouri of an unknown ailment after 12 years of marriage. Gibson's $3,000 life insurance policy helped lessen the widow's grief, and it wasn't long before Clara cast aside her mourning veil and wed again, this time to a man named Frank Carl. Upon their September 1920 nuptials, the couple settled in Philadelphia, Indiana, where they invited Frank's father, Alonzo, to live with them. Less than a year later, Alonzo was dead. Two months after that, Frank followed his father to the grave. In the span of a year and a half, Clara had experienced the deaths of three relatives—a spate of misfortune that aroused the community's suspicions. An investigation ensued and found that both Carl men, as well as Gibson, had died of arsenic poisoning. Clara was arrested, found guilty of second-degree murder, and sentenced to life in prison. She was paroled in 1937.
——————–
2. Ada LeBoeuf suffered from migraines painful enough to require continual medical attention. It was lucky, then, that Dr. Tom Dreher always had time for house calls—though suspicious neighbors noted that Dreher's visits often occurred when Ada's husband, Jim, was away from home. Ada and the doctor were having an affair, and though it took two years, Jim LeBoeuf eventually found out about it. The thwarted lovers decided that something had to be done, and that something was murder. In the early morning hours of July 1, 1927, Jim and Ada took a moonlit boat ride across Louisiana's Lake Palourde. Amidst the darkness of the summer night, someone from a nearby boat raised a gun and fired at Jim, killing him. His body was found in the lake a few days later. Ada and the doctor confessed to the murder plot, but claimed that though Dreher had been in the neighboring boat, it was handyman James Beadle who had pulled the trigger. All three were found guilty of Jim LaBoeuf's murder; Beadle received a life sentence, while Ada and Dreher were executed.
——————–
3. When Tillie Klimek's husband Joseph fell ill in the couple's modest Chicago home, tests confirmed the cause—arsenic poisoning. The source of the arsenic? The meals that Tillie had prepared for him. Joseph survived his ordeal, but not everyone who consumed Tillie's concoctions was so lucky. After her arrest for Joseph's poisoning, authorities discovered that several of Tillie's relatives and neighbors (including her three known husbands before Joseph) had died or become gravely ill. In fact, Tillie, a Polish immigrant, was said to have the ability to predict when those around her would die—a feat that was initially a source of amazement and fear to her neighbors, but that later became explainable once it was understood that Tillie had, in all likelihood, caused the deaths she predicted. In March 1923, Tillie was found guilty of the murder of her third husband, Frank Kupczyk, and received a life sentence. She didn't stand trial for any other crimes, and died in prison in 1936.