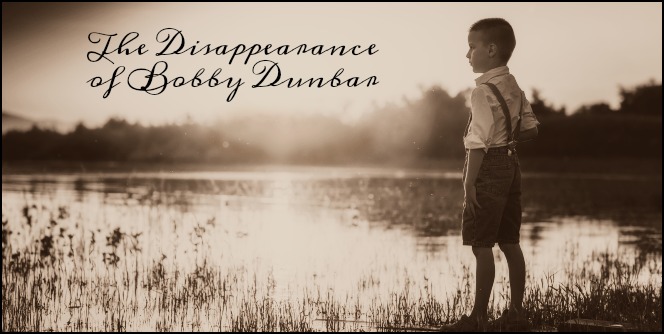 During the spring of 1913, two mothers found themselves in a peculiar situation—each insisting that the cherub-faced boy who had been found in the company of a travelling handyman in Mississippi was her son.
The first of the two women, a stout, unmarried field hand named Julia Anderson, insisted that the child was her son Charles, who was known by his middle name, Bruce. Anderson said she had allowed the handyman, an acquaintance of hers, to take Bruce on his travels for a few days—not for the 15 months the boy had actually been away.
The other woman, a well-dressed, married housewife named Lessie Dunbar, said the boy was her son Bobby, who had gone missing from a family fishing trip eight months earlier. At the time of the events in Mississippi, Lessie had already attained national recognition, as the search for Bobby Dunbar had generated headlines and attracted the attention of concerned parents across America. Now, as the drama surrounding the boy's identity unfolded, the nation held its collective breath, wondering whether the mystery of Bobby's fate had finally been solved.
How could two mothers look at the same child and each insist he was theirs, ultimately leaving it up to a court to determine the matter of custody? And with the boy being about five years of age—certainly old enough to acknowledge one or the other as his parent—why hadn't he done so? With more than a century of hindsight, the answers now seem clear enough, though the passage of time has also raised additional, perhaps unanswerable, questions about the sad, confusing case of Bobby Dunbar.
The saga had begun almost a year earlier, in the summer of 1912, when the Dunbar family—parents Percy and Lessie, and sons four-year-old Robert (known as Bobby) and two-year-old Alonzo, went on a trip with relatives to central Louisiana's Swayze Lake. During the outing, Bobby disappeared. A search was immediately undertaken, first by the family, then by hundreds of volunteers who combed the lake's cloudy waters, looking for any sign of the missing boy. Had Bobby drowned? Had he fallen victim to one of the many alligators that roamed the lake's waters? Had he been kidnapped? The latter seemed possible, as rumors swirled that an unknown man had been seen in the area. Yet, despite the extensive search, no firm clue was ever found indicating Bobby Dunbar's fate or whereabouts.
Then, in April 1913, with the story of Bobby's disappearance having spread throughout the country, the Dunbars learned that a child roughly fitting Bobby's description had been found in the company of William Cantwell Walters, a vagrant who earned a meager living traveling the South and working as a handyman. Percy and Lessie traveled from their hometown of Opelousas, Louisiana to southern Mississippi, where Walters had been arrested for kidnapping and where the boy was currently being held by authorities.
Reporters from that era couldn't seem to agree on whether the Dunbars immediately recognized the child as their son. Some stated that the parents weren't sure the boy was Bobby and that the child himself didn't seem to know either them or Alonzo. (Another account painted an altogether different—and almost certainly invented—portrait of the scene: the boy running into Lessie's arms at first sight, embracing her as he called out "Mother!") It wasn't until a day after their initial meeting, when Lessie gave the boy a bath and said that she recognized markings on his body, that she identified him as her missing son. The child returned to Opelousas with the Dunbars, receiving a hero's welcome complete with a parade and other festivities
However, the resolution to this mystery wasn't quite as clear-cut as the Dunbars—and, indeed, anyone following the strange saga of the missing boy—hoped to believe. In fact, one could say the mystery was only beginning. The handyman, Walters, who was awaiting trial in Louisiana on charges of kidnapping, insisted that the boy the Dunbars had claimed as their own wasn't Bobby. Instead, Walters said, the child who had been traveling the American South with him since February 1912—before Bobby's disappearance—was named Bruce Anderson, and he was the son of Julia Anderson, an acquaintance who had allowed Walters to take Bruce on his travels.
Upon hearing of Walters' arrest and the discovery of the boy, Anderson traveled from North Carolina to Louisiana to attempt her own identification. Like Lessie Dunbar, at first Anderson had trouble determining whether the boy was her son. Also like Lessie Dunbar, a day after her first attempt, Anderson stated that the boy found in Walters' care was, in fact, her child. However, unlike Lessie Dunbar, Anderson had born three children out of wedlock, which earned her a tongue lashing from the press over her supposed moral failings and unfitness as a parent. Anderson also had little money with which to fight for custody. Therefore, despite the disputed identification, a court-appointed arbitrator ultimately awarded custody to Percy and Lessie, officially establishing the child's identity as Bobby Dunbar.
In 1914 Walters went on trial in St. Landry Parish, Louisiana (where Swayze Lake was located) for kidnapping Bobby Dunbar, a charge for which he faced the possibility of the death penalty. Despite testimony from Julia Anderson (who asserted that the child was, in fact, Bruce) and from residents of Poplarville, Mississippi, who said they had seen the boy in Walters' company before Bobby disappeared, Walters was convicted and sentenced to life in prison. The verdict was overturned a few years later on a technicality. Prosecutors decided not to seek a new trial, so Walters was set free. He died in the late 1930s of blood poisoning from a splinter he received while working for a family in Florida.
Following the trial, life returned to whatever semblance of normality the parties involved in the incident could establish. Julia Anderson got married and had seven additional children. She settled in Mississippi, where she worked as a nurse and midwife until her death in 1940. She never forgot the son from whom she had been separated, and made sure her younger children knew about the existence of their older brother Bruce.
For Percy and Lessie Dunbar, the passage of time was less kind. In 1927 they obtained a divorce that had been preceded by years of clashes over parenting decisions and allegations of infidelity. Percy died a few years later, in 1931, while Lessie died in the 1970s.
Bobby himself got married in 1935 and, despite the turmoil of his early years, led a happy life as an adult, working as a salesman and raising four children of his own before passing away in 1966. Though the whispered questions surrounding his identity had never completely faded, it seemed that, with Bobby's death and the passage of time, those queries would eventually come to an end.
And perhaps they might have had technology not advanced to the point that DNA tests became capable of determining whether or not individuals were genetically related. In 2004, after much debate (and facing opposition from some of his relatives, who wanted to let the matter rest), Bobby's son, Bobby Dunbar, Jr., took a DNA test, with his results compared to those of one of his uncle Alonzo's sons.
The result?
No match. The child whom Percy and Lessie Dunbar had taken home and raised as Bobby Dunbar hadn't been their biological son.
And with that discovery, new questions suddenly arose. How could such a misidentification have occurred, one that led to a child being raised by a family that, genetically, was not his own? Likely, several factors came into play, chief among them classism. Julia Anderson had little money and had born children out of wedlock. On the other hand, Lessie Dunbar was a married woman who enjoyed a comfortable lifestyle and social status in her community. With all the attention Americans had paid to the loss and eventual "discovery" of Bobby Dunbar, it came as no surprise that the public wanted a resolution that would give the sad story a happy ending: a lost child reunited with married parents who could give him the lifestyle and material comfort he wouldn't have enjoyed with Julia Anderson.
How can one explain the fact that both sets of parents, despite initial uncertainty, insisted the child was theirs? In the Dunbars' case, because the boy wasn't, in fact, Bobby, the reason for such doubt is clear. Yet what led them to eventually identify the child as Bobby? Perhaps their shattered minds didn't want to face the reality of what had likely happened to the "real" Bobby at Swayze Lake and therefore worked overtime to convince them that the child was, in fact, their lost son. Conversely, maybe they knew at heart that the child wasn't Bobby, but sought a resolution that would restore their family and remove them from the limelight that had shone on them for the past several months.
For Julia Anderson's part, it seems fair to say that 15 months is a significant amount of time to be separated from one's child, especially when that child is four years old and growing rapidly. The boy who left her care in February 1912 may have looked much different when he was discovered nearly a year and a half later, thereby accounting for her initial uncertainty as to his identity.
Also perplexing was the fact that the child himself hadn't initially identified either the Dunbars or Julia Anderson as his parent(s). Again, in the Dunbars' case, this isn't a surprise, as the boy truly didn't know them. With respect to his inability to identify Anderson, it seems likely that Bruce—if, indeed, that's who the child was—either didn't recognize Julia Anderson as his mother or felt no familial connection to her. The suggestion has also been raised that Bruce was hesitant to give up the material comforts to which he had become accustomed during his brief time with the Dunbars; this, coupled with the fact that he was being told over and over that he was Bobby Dunbar, led his young and confused mind to seek the easiest resolution: life with the Dunbars at the expense of identifying Julia Anderson as his mother.
The next question: Was the boy found in Mississippi and raised as Bobby Dunbar actually Bruce Anderson? The DNA test that proved Bobby Dunbar wasn't, in fact, Bobby Dunbar, relied on genetic material passed along through the father (in this case, Percy Dunbar, Bobby Dunbar, Sr., and Alonzo Dunbar). Therefore, the same test couldn't be used to determine whether Bobby was Bruce Anderson, as it wouldn't have revealed genetic links between Bobby Jr. and relatives of Julia Anderson. In order to establish Bobby Sr.'s maternity, his body would have had to be exhumed, a course of action that neither the Dunbars nor Julia's family wanted to take. Still, it seems a likely conclusion that the Dunbars had actually raised Julia Anderson's child—Bruce Anderson.
Perhaps the most shattering question of all is: What happened to the "real" Bobby Dunbar? Though, of course, his true fate has never been determined, it seems logical to assume that Bobby wandered off and fell victim to misfortune, perhaps by drowning or succumbing to an animal along the lake. Therein lies the true tragedy of the story, for although the boy who grew up as Bobby Dunbar lived most of his life separated from his biological relatives, his ultimate destiny was a happy adulthood, which was certainly better than the fate that likely befell his namesake on the shores of a Louisiana lake more than a century ago.